Why Dream?
Every Dream cymbal is hand-made and hand-hammered, painstakingly created from fire, base metal and human spirit to create an individual masterpiece. The hand-craftsmanship of our master smiths is apparent in every Dream cymbal.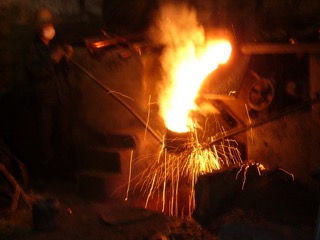 Each Dream cymbal or gong starts out as copper, tin, and other elements, mixed with years of mastery to cast the bronze disks. When sufficiently aged, each disk is repeatedly heated and forged by hammer into the primal shape of a cymbal. After careful tempering the instruments are again aged until it is time to bring out their voice.
Skillful hammering by a dedicated team of smiths results in a raw, dark-colored cymbal that is battered and scarred from countless precise blows. These will become exceptional musical offerings.
The next stage is the lathing of the metal surface. With every pass of the lathe worker's knife, the visual and aural identity of each cymbal is revealed. An instrument with a fine new voice is literally born of bronze, fire, hammer and knife.
Next the cymbal will again rest and mature and have final hammering for some models, as well as polishing, matching and printing.
Launched in 2005, Dream cymbals is the partnership of passionate Canadian instrument designers and generations of Chinese gong smiths. This is the beginning of a new era of top quality instruments at prices any musician can afford.
Try one today and find out what your Dreams sound like.