Rickey Duffy
Groove Symphony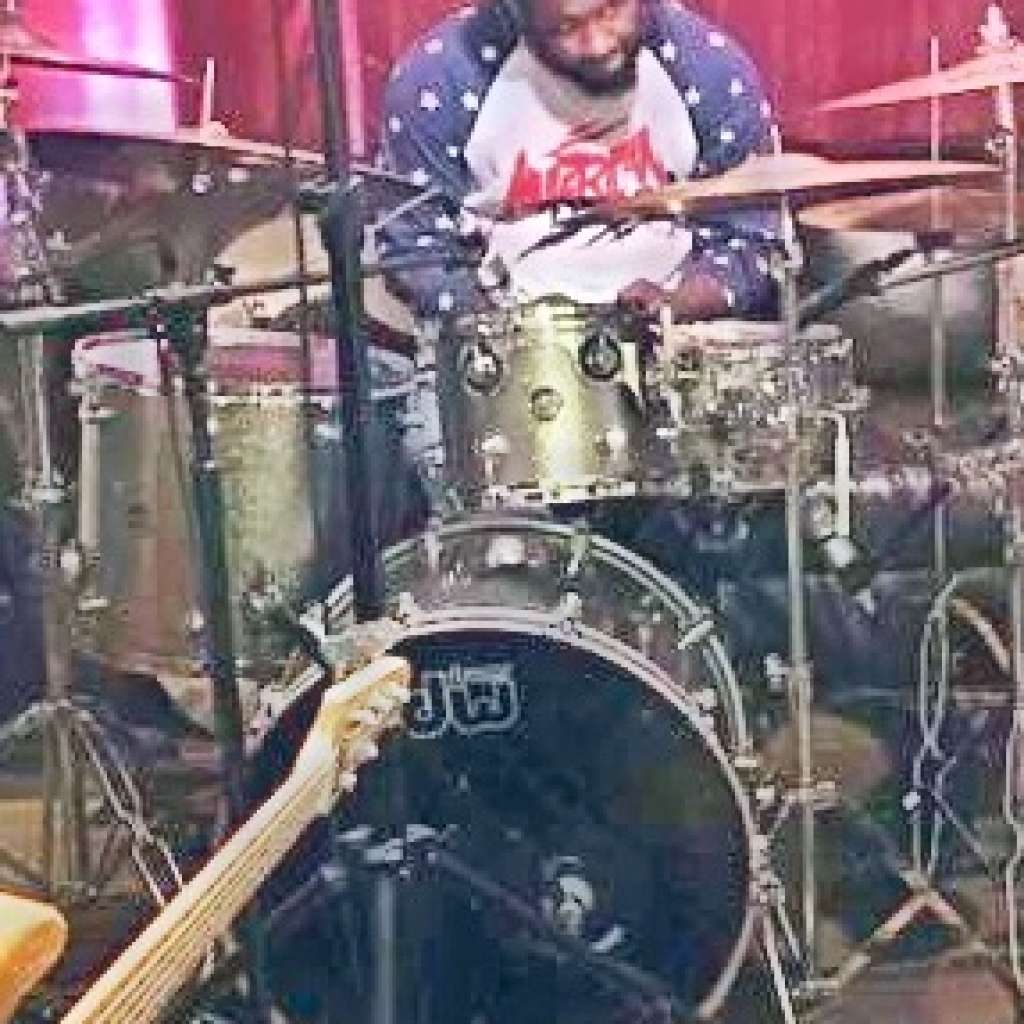 Rickey Duffy Jr. is anointed and appointed by God, this energetic and Enthusiastic drummer will keep you astonished by his quick but
controlled hand and foot speed.
is anointed and appointed by God, this energetic and Enthusiastic drummer will keep you astonished by his quick but
controlled hand and foot speed. His exceptional ability to orchestrate his natural talent in a
wide range of musical genres, brings a powerful new style of drumming that has placed him among the elite drummers to emerge in the 21st Century.
Born in Pensacola, Florida Rickey Duffy Jr. has a great passion for
God's music. Rickey first realized this gift at the age of two. He has
now been playing the drums for over twenty years! Rickey has had the opportunity to work with many Artist. To name a few, Rickey has
performed with well known gospel artist such as Zacardi Cortez an Ernest Pugh. World renowned comedian Rickey Smiley, gospel artist Merton Huff, Award winning pop artist Joss Stone, Two-time Grammy Award winning American gospel recording artist Twinkie Clark, Grammy-Nominated American gospel recording artist Joe Pace, Billboard's Top 15 on the Gospel Albums Chart recording artist LaShun Pace, Duranice from the awarding Pace Sisters, Bourbon Street Music Club Sao Paulo, Brazil's popular night club. NU-BEGINNINGS, Stellar award nominee, and gospel Recording
Artist Jai Reed, R&B recording artist Erica Falls and Recording Jazz
Artist Toppsy Chatman.Rickey has performed in Sao Paulo Brazil since 2006 with both Erica Falls and Nu-Beginnings. Rickey has done numerous workshops throughout the State of Florida, and also conferences throughout as well.
Rickey has also worked with Kang Wurld Entertainment out of
Jacksonville, Fl. He is currently the musical director at Deliverance
Tabernacle Christian Center in Pensacola Fl. Rickey is very dedicated to music and has a strong passion for it. Rickey lives by the motto the, "If you can't give it your all, then don't give any! "Rickey has always kept God first for he knows where his gift came from!!! God has also given him a ministry called KINGDOM MINDED MUSICIANS to enhance the ministry of young gifted musician. Out of that one vision God also allowed Rickey to birth Kingdom Minded Minstrels, Kingdom Minded Productions, Kingdom Minded Mentors, and Kingdom Minded Entertainment.
Rickey is now a producer and is producing future artist such as
KMM, Jessica Owens, Jocelyn Tribbett, Purpose, B.A.D, Craigh
Franklin, LaJessica Lewis. God has allowed Rickey's passion, loyalty, and gift to thrust him to the next level of ministry. Rickey's desire has never been to have the spotlight for himself, but his prayer has always been to help others dreams come true while accomplishing his dreams and goals.
Rickey has put bands together for Antoine Knight, Award winning jazz saxophonist, Jonathan Nelson and Ernest Pugh. Rickey also
performed at 2012 Deluna Music Festival that is held yearly on beautiful Pensacola Beach which is also Rickey's hometown with Antoine. He also performed at the festival known all over the world as Jazz Festival in the great city of New Orleans, Louisiana where he performed with Erica Falls.
Rickey's a member of the Undeniable Music Group and works as a studio session drummer for up and coming artist assigned to this label. Rickey has performed with the soul band Boukou Groove.
Rickey's humbleness and loyalty to God and his gift has brought him
before great men and women. But Rickey as a professional and a christian plays for an audience of one.
​Currently Rickey is the drummer for Groove Symphony and the bands album will drop this year in April. Groove Symphony has performed at several jazz festivals.
For the last 2 years Rickey has found his calling as the Director of
percussion where he was the writer and arranger at Gulf Breeze High school where he led an amazing group of student to a 1st place wins at the circuit Championships for the gulf Coast Guard and percussion Circuit championships. This year Rickey is director of percussion at West Florida High school in Pensacola, Fl. And has produced an award winning percussion ensemble. The group is currently competing for the first time in school history in the WGI indoor percussion activity.
​
Videos
Share