Jamie V. Ryan
Africa->West / Eastern Illinois University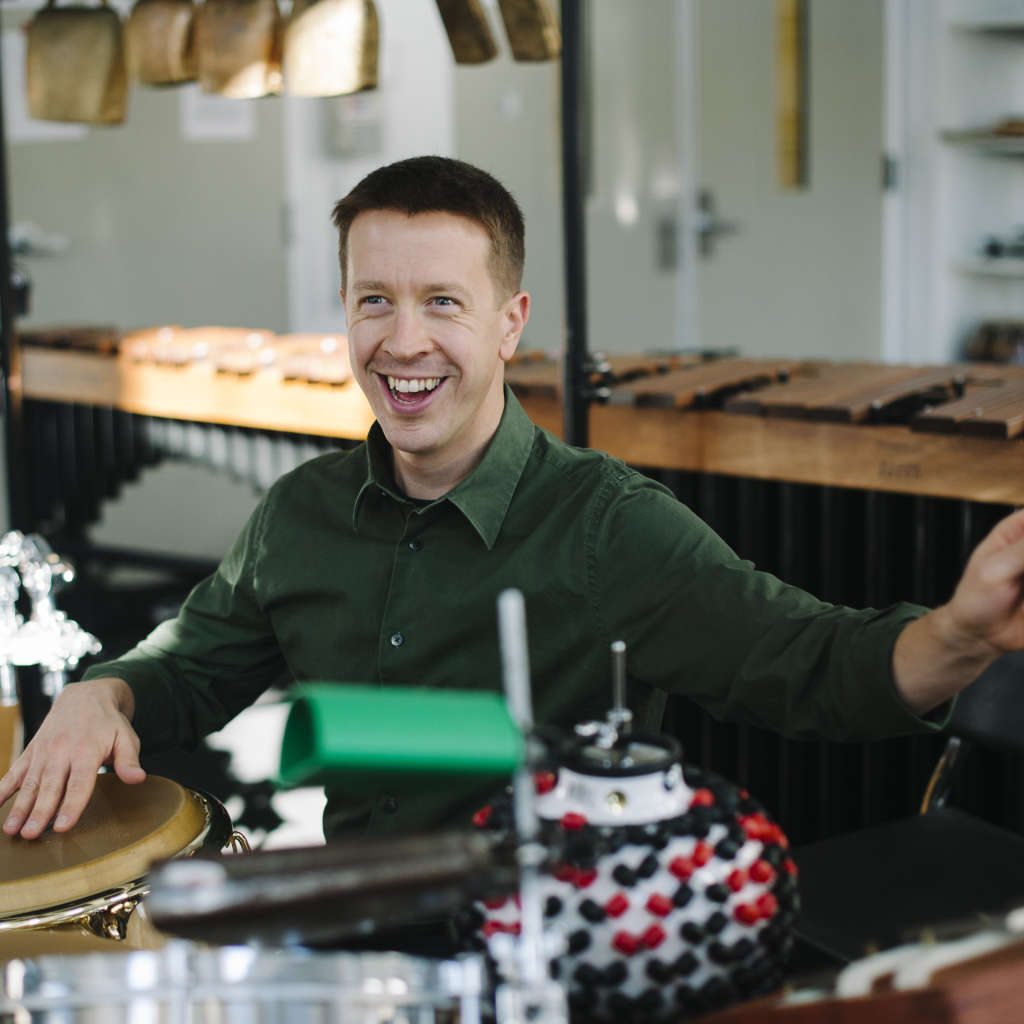 Percussionist Jamie V. Ryan thrives on playing and teaching many types of music. He performs regularly with the Wisconsin Chamber Orchestra. An active solo and chamber musician, Jamie is a member of the Galaxy Percussion Group, with Michael Udow, Anthony DiSanza, and Roger Braun, which toured South Korea and the United States in 2010 and 2011, respectively. Galaxy returned to South Korea for a tour in the summer of 2013. He has also played with the Bach Dancing and Dynamite Society, the Oakwood Chamber Players, and the Tool and Drum Ensemble.
In 1999, Jamie co-founded the Africa->West Percussion Trio, which plays its own music influenced by the African Diaspora and the Western tradition, as well as standard repertoire for chamber percussion. The trio performs and gives masterclasses and workshops throughout the country, and is in residence at Baldwin-Wallace University in Berea, Ohio. Africa->West will release its fourth recording, Loud Fossil, in February of 2016. In the fall of 2014, percussionist Valerie Naranjo commissioned AW to compose and record with her for an upcoming release. The group's first three recordings, schedule, and other information can be found at www.africawesttrio.com. Jamie was formerly a member and co-founder of El Clan Destino, a hyper-ecstatic Afro-Cuban quartet in which he played congas and the sacred bata drums. The group released one recording, Rukus, which is available on its website, www.elclandestinomusic.com. In addition, Jamie played timbales and drum set in the Tony Castaneda Latin Jazz Sextet.
Jamie is also in demand as a drum set artist across the Midwest. He he has played with Tim Whalen's Trio, Nonet, and Tribute to Art Blakey bands, avant-metal group Freighter (www.freighterband.com), and numerous other groups in the jazz, rock, and Latin music genres. He toured Europe and the United States with the Leo Sidran band, and recorded for the GoJazz and Stellar Records labels. He has taught at Mansfield University, the University of Wisconsin-Whitewater, and Lawrence University. Jamie received his B.M. from Lawrence University (magna cum laude), and did his graduate work at the University of Wisconsin.
Photos
Links
Share