Weekend Woodshed #2 - Libor Hadrava
Libor Hadrava's Rudimental Workout #1
Hello Everyone! Welcome to my first Weekend Woodshed Lesson! Please enjoy working through these valuable single stroke exercises and let me know how your progress goes! Happy Woodshedding and see you next time! - Libor
The Single Stroke Roll is by far the most used rudiment whether we realize it or not.
Proper execution of the Single Stroke Roll is not nearly as easy as it looks and seems at first.

No matter the tempo your single stroke roll should be even rhythmically as well as dynamically.
1, Focus on the tips of your sticks making sure that both of them are coming up to the same height.
2, Practicing in front of a mirror is the best and easiest way to control your stick heights. Using a dry erase marker draw a horizontal line on the mirror and while practicing make sure that both of your sticks come all the way to it without crossing it.
3, Controlling your stick height this way will also make it a lot easier not to accent any notes and therefore get a dynamically even unaccented Single Stroke Roll.
Switching the leading hand is also very important. When you switch the leading role the feel is different because now the other hand is the leader and marks the top of each beat.

Take the group of four 1/16th notes and double each 1/16th note going through all of the permutations while keeping the single stroke sticking.

We can also triple each of the four 1/16th notes and play through all the permutations

And of course the next obvious step is going through all four 1/16th note permutations and quadruple each of them.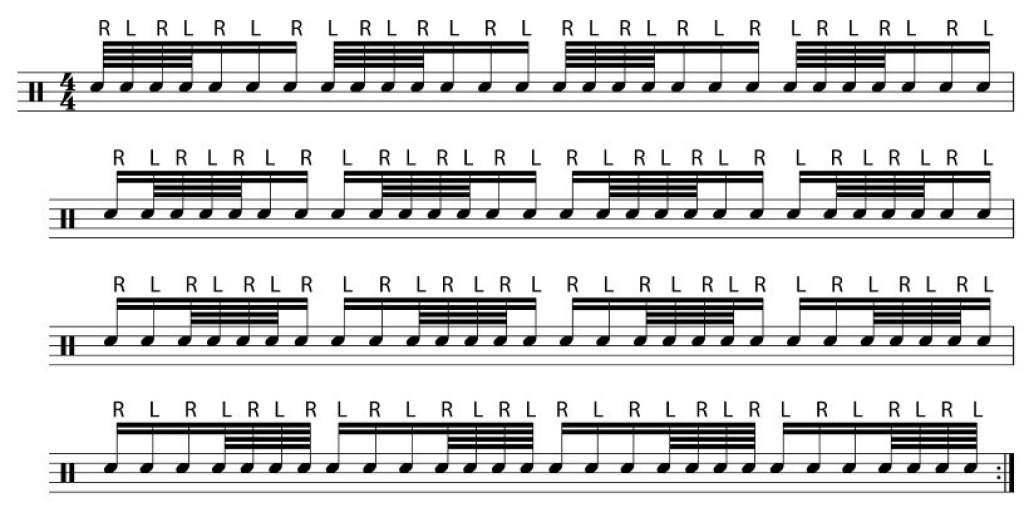 Once you are comfortable with the concept you can use a rhythm page like this, keep all 1/16th note subdivisions and double, triple and quadruple all the corresponding notes from the page.

This is what it will sound like when we double each note out of our rhythm page while keeping the single stroke roll sticking approach.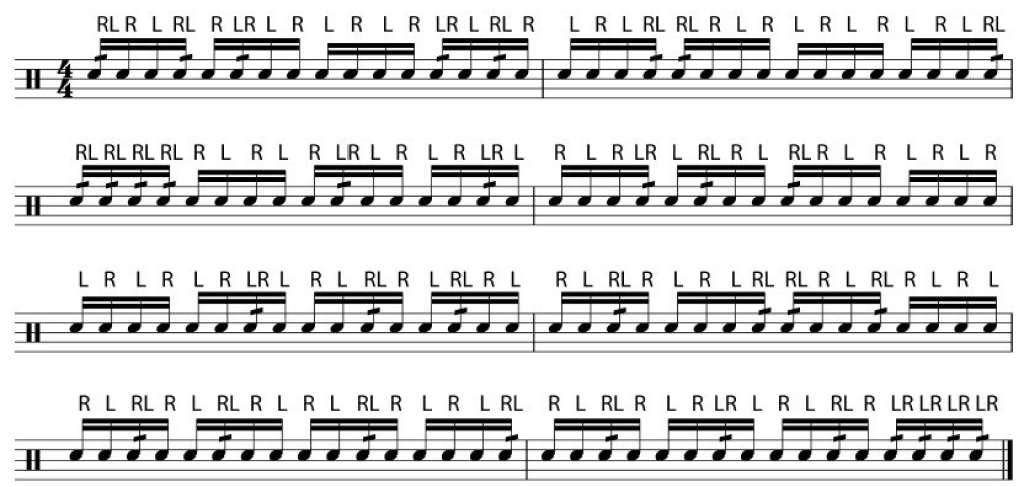 Once you are comfortable move on to the triple and quadruple approach to the rhythm page using strict single stroke roll sticking
Have Fun !
Share