Weekend Woodshed #4 - Nicholas Hall
Etude in 60 #9
Weekend Woodshed 4 - Nicholas Hall
This week's weekend woodshed is a fun little play along track focusing on exploring your cymbals in beats and fills. Starting with an emphasis on the upbeats wait until the end to flip the beat and play off the bass in the track.
Start off slow to learn the part, making sure that the up-beat feel sounds just as natural as an on-beat feel. This may feel slightly awkward at first and might take some time to get used to playing.
As you approach the more filled in area it's important to keep your 16th notes even. The groupings are mostly made up of odd figures (groupings of 7s and 5s) which cause syncopation within the line. Pay close attention to the timing of your hi-hat within these groupings when following an open hit with closing it with the left foot. The closing of the hi-hat should fit within the 16th note grid as part of the line rather than an after thought.
The most fun part of this etude is getting creative with your cymbals sounds! No specific cymbals (except for needing a hi-hat) are notated so you are free to try new combinations and think outside of the box. For reference, in the video I am using: 20" Dark Matter Moon Ride, 18" Dark Matter Crash, 20" Bliss Crash/Ride + 18" Bliss Paper Thin Stacker, Re-FX Bell, and a hi-hat made of a 16" Pang China (bottom) + 16" Dark Matter Crash.
Check out some more etudes/videos at www.nicholasvhall.com, instagram.com/hallsmusicpub, and youtube.com/hallsmusicpub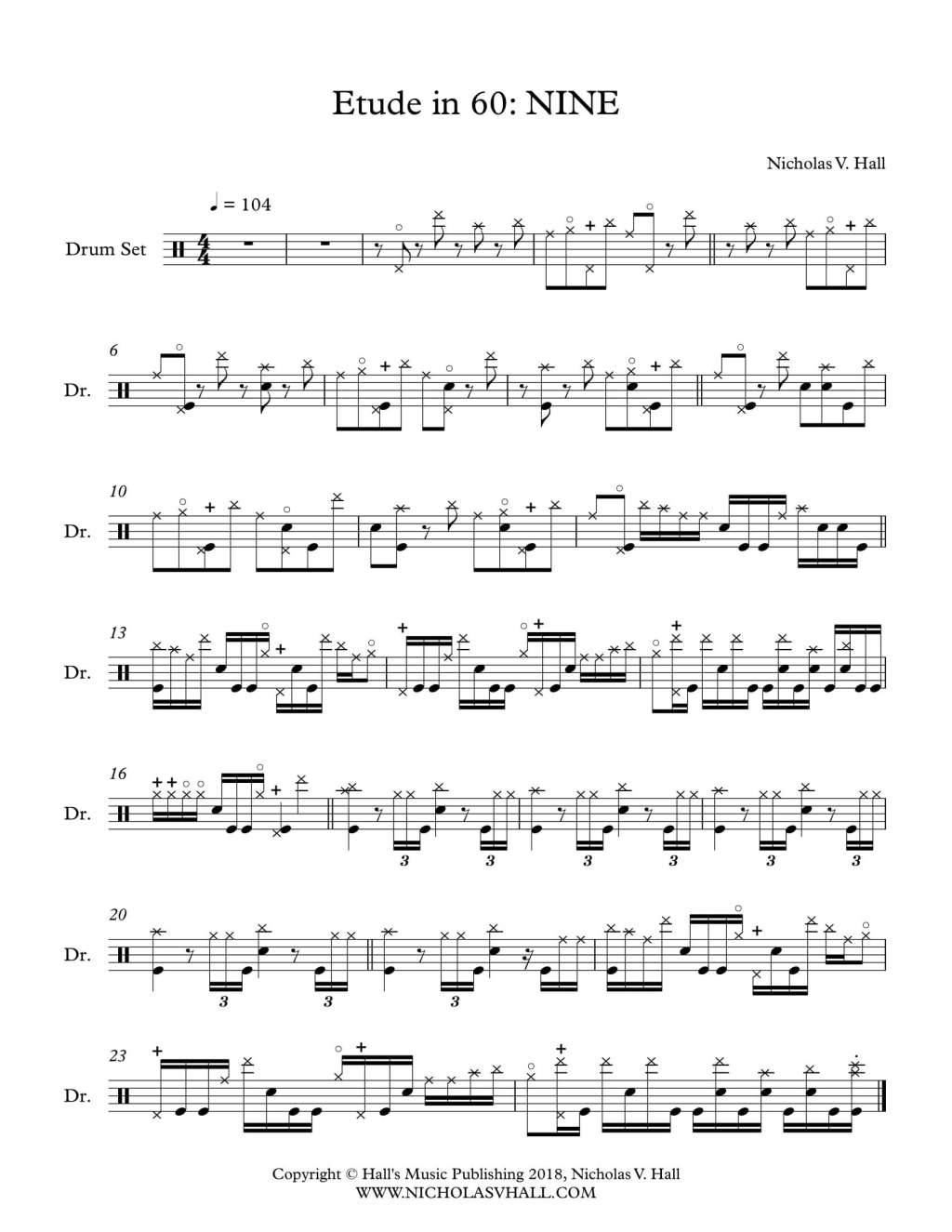 Share